SINCE I HAVE NOTHING BETTER TO DO WITH MY GOGDAMN TIME, I SUPPOSE I COULD ANSWER SOME OF THE BURNING QUESTIONS YOU IDIOTS MAY OR MAY NOT HAVE FOR ME. THEY BETTER BE ON FUCKING FIRE. AND I GUESS I'LL ANSWER THEM WITH A DRAWING OR SOME SHIT LIKE THAT. I AM SURE THAT THIS IS A STUPID IDEA AND I WILL REGRET THIS LATER. OH FUCKING WELL.
WIDGETS HERE WIDGETS HERE WIDGETS HERE WIDGETS HERE WIDGETS HERE WIDGETS HERE
Theme by:
fuckyeahadek
Powered by:
tumblr
BUT SERIOUSLY.
WHAT THE SHIT IS A "KLONDIKE BAR"?
I AM ALLOWED TO TAKE BREAKS. 
SO YEAH. BYE FOR NOW.
MOTHERFUCKING WHY. WHY. WHY DID I DO THIS. GOD FUCKING DAMMIT. THIS IS SO FUCKING STUPID.
Karkat: Stop wearing clothes for girls. Rip that shit up.
===>
You decide thats probably a bad idea too, cause then you will be pretty much naked and no one wants to see that. 
I DONT EVEN…
WHAT THE FUCK IS "RACKET BALL"? 
GO AWAY, YOUR IDIOCY IS FUCKING SUFFOCATING.
I SWEAR TO FUCKING SHIT IF I GET ONE MORE FUCKING HORN QUESTION I AM GOING TO COMPLETELY FLIP A FUCKING BITCH RIGHT OUT THE FUCKING GOGDAMN WINDOW. YOU SICK FUCKS WHAT THE HELL IS WRONG WITH YOU?! THERE IS NOT FUCKING VIDEO THERE WAS NO FUCKING "INTENSE HORN ACTION" OHMYFUCKINGJEGUS.
GAMZEE BACK THE FUCK UP. UUGHH GET YOUR HANDS OFF MY FACE!
Karkat: Wipe that shit off of your face.
==>
HEY WHERE THE FUCK DID YOU…OH. OH GOD.
==>
OHGODOHMANOHFUCKOHMANOHGOD
Karkat: Flip your shit.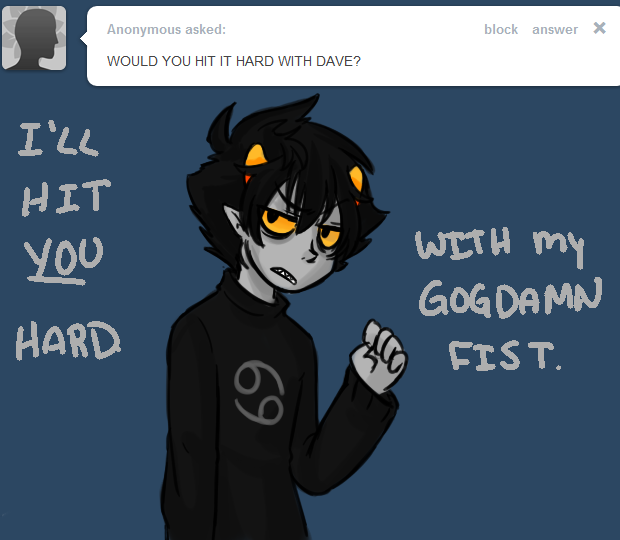 RIGHT IN YOUR FUCKING FACE.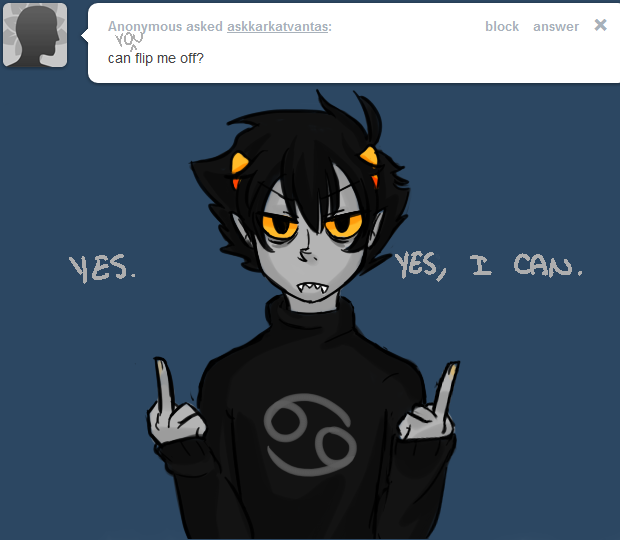 I GAVE YOU AN EXTRA FINGER BECAUSE YOU FUCKING CAN'T TYPE. THIS WAS THE PERFECT OPPORTUNITY FOR THAT "X2 COMBO" JOKE BUT FUCK YOU GUYS I'M NOT DOING IT.
…
FLIP OFF X2 COMBO
GOGFUCKINGDAMMIT.
THE LITTLE THING JUST NEEDS A PLACE TO REST. 
OKAY, YOU HAVE 10 FUCKING MINUTES UP THERE. THATS ALL YOU GET.
AND STOP LOOKING AT MY SCREEN, IT'S ANNOYING. IT'S LIKE PEOPLE WHO READ OVER YOUR GOG DAMN SHOULDER, HOLY SHIT. WHY DO YOU NEED TO KNOW WHAT I AM READING?! GET YOUR OWN FUCKING BOOK, SHITSTAIN.
WHAT AM I EVEN TALKING ABOUT ANYMORE…
NO HUGS FOR PEOPLE I DON'T KNOW. WHO ARE YOU AND WHY THE SHIT DO YOU WANT ME TO HUG YOU?
I DON'T JUST GIVE OUT FREE HUGS. YOU NEED TO EARN THEM.
AND EVEN THEN I PROBABLY WON'T HUG YOU. HUGS ARE STUPID.